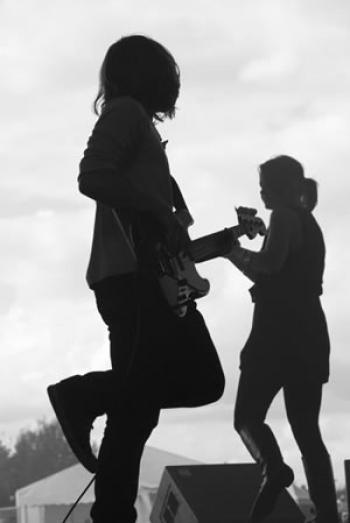 Biography
Robin began playing music at a very early age, mainly bashing the keys of his mothers piano with toy cars, much to her annoyance! However, Robin took up guitar and piano lessons before the age of ten, but found his true musical calling at the age of fourteen when he picked up a bass guitar for the first time. After forming several bands with friends at school, Robin was offered the chance to play for local Sheffield band Dead Like Harry in 2002. Performing his first ever gig at The Grapes, the short set in front of no more than 75 people had a profound effect on the fifteen year old, thinking to himself, "this would be a nice job to have!" Now over 15 years on, Robin still performs regularly and has graced such stages as Glastonbury Festival, Sheffield Arena and Sheffield City Hall amongst touring the UK several times.

Shortly after joining Dead Like Harry, Robin was persuaded to join the school jazz band, although not knowing the first thing about the genre! Fortunately the band took Robin under their wing and taught him in the art of jazz playing. Within the first year this band reached the finals of Music For Youth at the Queen Elizabeth Hall in London. Upon returning the year after, the band took first prize in the Small Jazz Ensemble category and were rewarded with the chance to perform at the Royal Albert Hall in November 2004. In his final year of sixth form, Robin took the role of leading this band, but took on a new crop of young players. Once again the band reached the finals of Music For Youth, this time at Birmingham Conservatoire, where Robin was awarded with a certificate for best original composition.

In September 2005, Robin left his native Sheffield and took the short hop over the Pennines to study Popular Music and Recording at Salford University. This gave Robin a chance to immerse himself in all things music. Under the tutorship of Ollie Collins and others, Robin performed with several ensembles including leading the band for a production of Bugsy Malone. Robin graduated from Salford in 2008 with his major electives in composition and performance.

Having returned to Sheffield, Robin helped establish the jazz band Cookin Pots along with such Sheffield regulars Gem Hewitt and Andy Cook. In 2011, Robin started working as the co-manager of the newly re-opened Shakespeares on Gibraltar Street, Sheffield, an independent Real Ale pub with live music venue. Shakespeares was awarded Sheffield CAMRA Pub of The Year 2013 and is a prominent venue in the city. Robin was instrumental in organising a lot of the Tramlines line-up. In early 2012, Robin joined another Robin, blues guitar maestro Robin Hoare, on stage for the first time, and this partnership is going from strength to strength. 2014 saw Robin join The Tempertons and Rita Payne on stage for the first time. This was also the year Robin left Shakespeares and embarked on a new role with Abbeydale Brewery.

2015 was a monumental year for Robin with the birth of his first child, and music making was put on the back burner for a while as he became accustomed to his new responsibilities, although he was able to join Rita Payne for a few big shows, most notably performing at Brixton Academy. Early 2016 saw the end of Rita Payne, but the birth of The Rita Payne Band! After a few line-up changes and an expansion of musical horizons, a new exciting project was born with the incredibly talented Shinny Ranks on vocals and sax, and Dom Major on guitar. Unfortunately to due various reasons, the Rita Payne Band was unable to survive the year, but not to be held down, Robin was invited to join Petes newest duo, The Sowerbees, alongside Katie Hughes. After a few small gigs it became clear that the lure of a full band sound was very much needed, so Mark Brewer was hired on drums and Get Babyface was born in late spring 2017. Although it seemed in late 2017, that Get Babyface had real promise, the band never really got off the ground, and time was called in early 2018. Spring of 2017 also saw Robin join old DLH bandmates Sam Taylor and Adam Crofts on tour with Sams newest project, Ophelia, and Robin went back on the road in early 2018 with Ophelia, promoting their debut album, Blackbox Memories. Late 2018 saw what a lot of people had been hoping for, a proper DLH show! The band got together again and what fun it was, like we'd never been apart! 2019, also saw the return of the infamous DLH Xmas gig with legendary 17 minute festive medley. There are whispers of new DLH material and a possible small release in 2020, but time will tell.
The final weeks of 2017 saw the launch of a brand new Blues and Soul Revue show down at Yellow Arch Studio which Robin is delighted to be part of the house band with some rather talented other musicians, including long time collaborator, Mr Tom A Wright. The band is constantly evolving and the Woodstock 50th Anniversary show at Southwell Folk Festival 2019 got the hivemind thinking, and 2020 will see each show have a musical theme as we try to give ourselves even more work to do!